On the southwest of Zlatibor, in the valley of river Jablanica, tucked in is a complex of church of the Holy Virgin, one of the guardians of orthodox identity of our country. It is very simple to get to this location because there is a 25 kilometers long asphalt paved road between Zlatibor that leads across Tornik and Ribnica.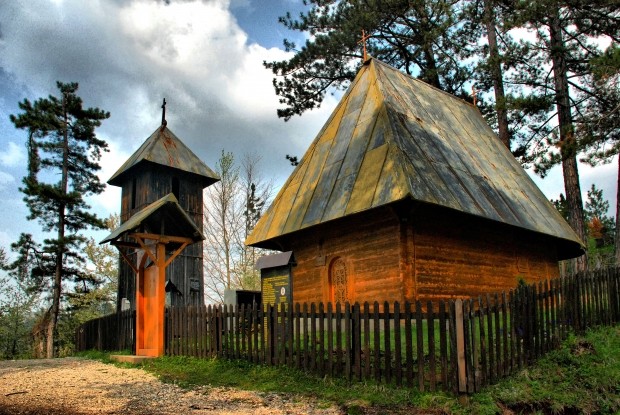 Photo: superdomor.rs
Built out of logs of black pine, it is one of the rare log-built churches in our country. Hidden in trees of pine wood it hides inside its walls traces of ancient times of Jablanica. It was erected in 1838 as a cult place for gathering of our people and a symbol of protection against the Turks. Church is small in size, 5.25 meters in width and 9.5 meters in length. Its shape is of rectangle single-naved base with half circle altar apsida and presents an important proof of art of architecture of citizens of that time. Through the door decorated with interesting ornaments you enter the room divided by iconostasis on circled altar and narthex. Old iconostasis preserved are Royal Doors, icons of Jesus Christ, Holy Mother of God with Jesus Christ and icon of Saint Basil of Ostrog with Saint John the Baptist. The church is covered with steep roof made out of wooden slates.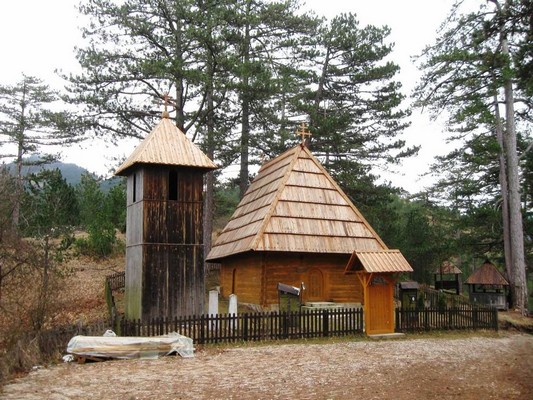 Inside the complex or better to say the church yard, there is a cemetery, a wooden bell tower, and also small tables. These little wooden structures were erected by wealthy people of those times to be used, with their guests and people of Jablanica, during church gatherings and big holidays. Some of them are closed and some in the shape of low terraces.
The legend of Mara is associated with this location. According to the story of the locals, during the reign of Osman empire there was a law that for each Turk that was killed, two Serbs were to be killed. So when someone killed a Turk, frightened citizens accused Mara, a refuge from Štrbac, who had two sons. For punishment, the Turks hanged both of her sons. Out of immense grief and pain Mara put a curse on villagers: `As my sons hanged on the branch, so Jablan people shall prosper on the other side`. Couple of centuries later in 2015, citizens of Jablanica erected a monument with a writing on it: `During the OttomanEmpire, when Turks were in Jablanica, two innocent sons of Mara were killed. In those times it was two Serbs for one Turk and the Turks hanged them on the branch. Mara, lift your heavy curse, so our children can live in prosperity`.
The church in Jablanica is under state protection from 1949 as a cultural good of great importance for Republic of Serbia. On the initiative of people working in the open airmuseum `Old village Sirogojno` in 1998 in front of the church a reconstruction and a video recording were madeof the old people's custom of gathering.